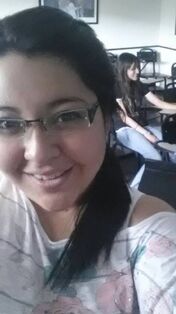 Mónica Padrón Leyva was born in
Monterrey
, Nuevo León. She is a 20-year-old student and teacher. 
About her.
Edit
Mónica is an English teacher at Instituto Mexicano de Relaciones Culturales and also she studies there the "Licenciatura en la Esneñanza de la Lengua Inglesa".
One of the things that she likes the most is everything related to science and medicine. When she finished high school, she decided to go to Medical school. There, she studied 4 semesters, but she decided to change to another career because Medical school was too boring for her, she wanted something more interesting, so now she is studying at Relaciones Culturales. Even though she does not study medicine anymore it does not mean that she is not interested in everything related to medicine or science. One of the things she would like to do when she finishes where career is to teach Biology in high school. 
She loves listening to Lana del Rey , Adele , Fall Out Boy ,Air Supply , Journey ,Panic! at the Disco , among others. Mónica also enjoys reading and baking. She considers herself a "Grammar Nazi", she is always checking grammar, spelling, punctuation, etc. She loves doing corrections but some people find it annoying. 
Mónica has written two interesting articles. One is about "Teaching Children with Autism"; in this article you will find some information about autism and children with this disorder and the other one is about "The effects of lack of education on society" . 
She was born in Monterrey, Nuevo León. She lived in San Nicolás de los Garza until she was 18, then she moved to a big house in Monterrey, Nuevo León. There, she lives with her parents, sister and her grandmother.  For her sometimes is difficult to hang out with her friends because the majority of them live in San Nicolás and she lives far away now. 
It is difficult for Mónica to hang out on Fridays because she has to work very early in the morning the next day, but it does not matter to her because she loves what she does and even though she is tired she has time for her friends.
Now that she is studying another career she has new friends that she considers part of her family. Mónica and her friends from Relaciones Culturales are planning a trip to New York City next december, they are very excited about that.
She has a blog where you can find interesting things if you want to learn or improve your English.