Write the first paragraph of your page here.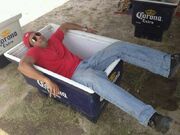 Ivan Malpica was born on September 28, 1978 at 3:02 a.m. in Veracruz, Veracruz . He is the second son out of three of them. As a child, he and his family moved to Mexico City and there he started his early education. Some years later after finishing the high school, he was offered to move to Monterrey city to work in a marketing company, so he decided to drop school to start working. He worked there during 7 years and decided to quit since his job became hard and full of activities. Then, he started to work as a teacher in an English school and has been teaching for 11 years. Currently, he is studying a degree in learning English and he fells sated with his accomplishments. You may check out his blog if you are interested to review some useful English information.
He wrote some articles explaining descriptive sentences and types of sentences . 
Ad blocker interference detected!
Wikia is a free-to-use site that makes money from advertising. We have a modified experience for viewers using ad blockers

Wikia is not accessible if you've made further modifications. Remove the custom ad blocker rule(s) and the page will load as expected.