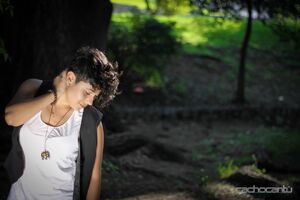 Fernanda Garza is 22 years old. Her zodiac sign is Virgo and She lives in Monterrey, México. Fernanda is a full time college student,majoring in English Language teaching and loving it; She also works as an English teacher in Public elementary schools.
Her interests are design, art, music, movies,reading, writing, dancing, going to museums and everything related to that. She believes in the good of the world and of the people; rather than the bad things. One of her life's philosophies is that we all can change this world by changing ourselves first.
Fernanda is into yoga, spirituality, buddhism, and social causes. She also loves traveling and just get to see new places and enjoy life from different points of view, nothing complicated.
Fernanda was Harvey Milk and Marthin Luther King's daughter in her past life. Right now, she just reincarnated; and, her role model is Ellen DeGeneres .
Her favorite artists are the Backstreet Boys, Simple plan, and a Mexican group called RBD (Rebelde) . Also, she has won several awards:
- National Youth peace prize by the United Nations
- Goodwill ambassador by the United Nations
- Woman of the Year by TIME Magazine
- Number.1 in the list of most influential people by Forbes Magazine.
She is part of the YMCMB crew, because she was also a black rap singer in her other life.